*** English to follow ***
Så er vi næsten klar med årets lineup til Raise Your Horns 2020. Det er kun småting, vi mangler at pusle på plads. Du kan se det foreløbige lineup lige herunder.

Hvis du ikke har købt billet endnu, så skynd dig ind og få det gjort! Der er godt gang i salget, og vil du nå at sikre dig biletterne til årets metalbrag på klippeøen, så gør det NU:
https://www.ticketmaster.dk/artist/raise-your-horns-billetter/1012751?language=en-us
Vi er samtidigt stolte over at kunne præsentere Claus Simonsen, stifteren af Copenhell Family, som kommende konferencier på dette års Raise Your Horns.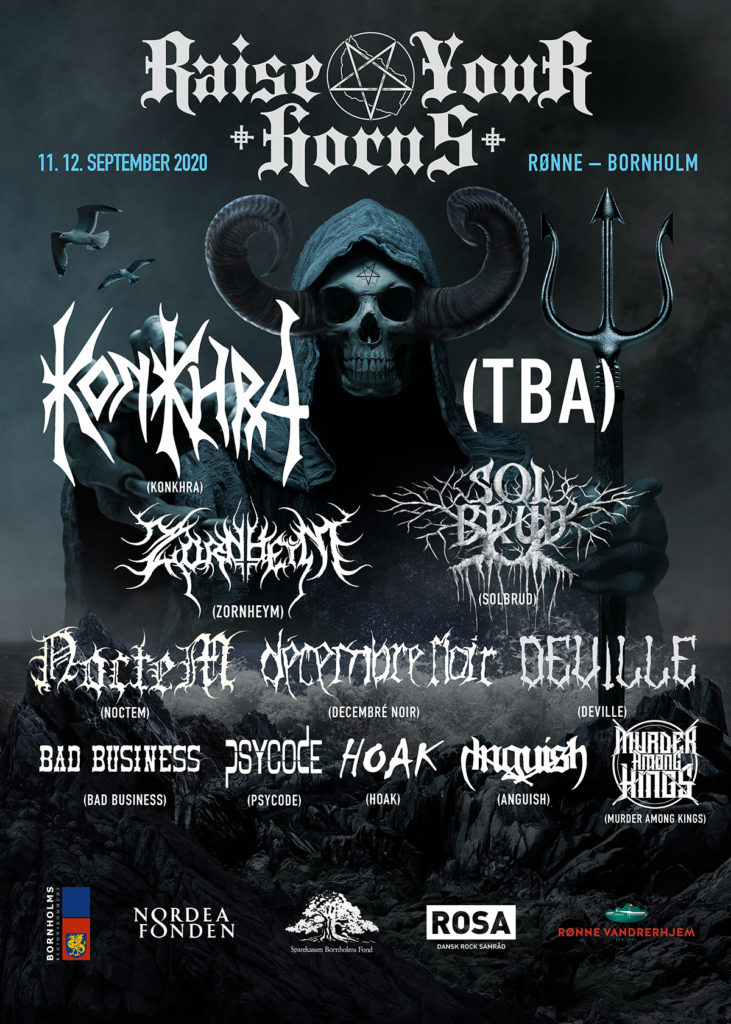 Tak, Claus, fordi du vil være vært for Raise Your Horns 2020 – vi ser frem til at tage imod dig til festivallen!

For at fejre annonceringen, vil vi i samarbejde med Copenhell Family udlodde 2 stk. billetter til Raise Your Horns til én heldig vinder.

For at deltage, skal du ind på Copenhell Family: https://www.facebook.com/groups/590214951128965/
-Like konkurrence opslaget
– Kommentér, hvilket band fra 2020-lineuppet, som du helst vil se.

Konkurrencen på Hell Family slutter 11 juni kl 16. Vinderen trækkes og kontaktes umiddelbart efter.
Du kan ikke deltage her på Raise Your Horns Facebook side !!

*ENGLISH*

Conferences and provisional lineup!
Now we are almost ready with this year's lineup for Raise Your Horns 2020. Only little things are left to puzzle. You can see the preliminary lineup here in the post.
If you haven't bought a ticket yet, hurry in and get it done! Sales are well underway, and if you want to secure your tickets for this year's metal bang on the rocky island, do it NOW:
https://www.ticketmaster.dk/artist/raise-your-horns-billetter/1012751?language=en-us
At the same time, we are proud to present Claus Simonsen, the founder of the Copenhell Family, as upcoming conferences at this year's Raise Your Horns.
Thank you, Claus, for helping Raise Your Horns 2020 – we look forward to welcoming you to the festival!
To celebrate the announcement, in collaboration with Copenhell Family, we will distribute 2 Raise Your Horns tickets for one lucky winner.
To join, visit the Copenhell Family: https://www.facebook.com/groups/590214951128965/
-Like competition posting
– Comment on which band from the 2020 line-up you would like to see.
The competition at Hell Family ends June 11 at 4 pm. The winner will be drawn and contacted immediately after.
You cannot join here on Raise Your Horn's Facebook page !!