Raise Your Horns er utroligt stolte af, at præsentere cremen indenfor dansk Black Metal, nemlig Solbrud. Læs mere længere nede.
— ENGLISH TO FOLLOW —
Siden Solbruds start i 2009 har målet været at skabe melodiske og storslåede kompositioner i et råt og stormfuldt udtryk; en lyd, der bliver opnået ved at kombinere nådesløst trommespil med akkord-og harmoni-baserede guitarriffs gennem en række af lydeffekter, der tilsammen skaber et intenst og atmosfærisk lydlandskab – eller kortere sagt: Black metal.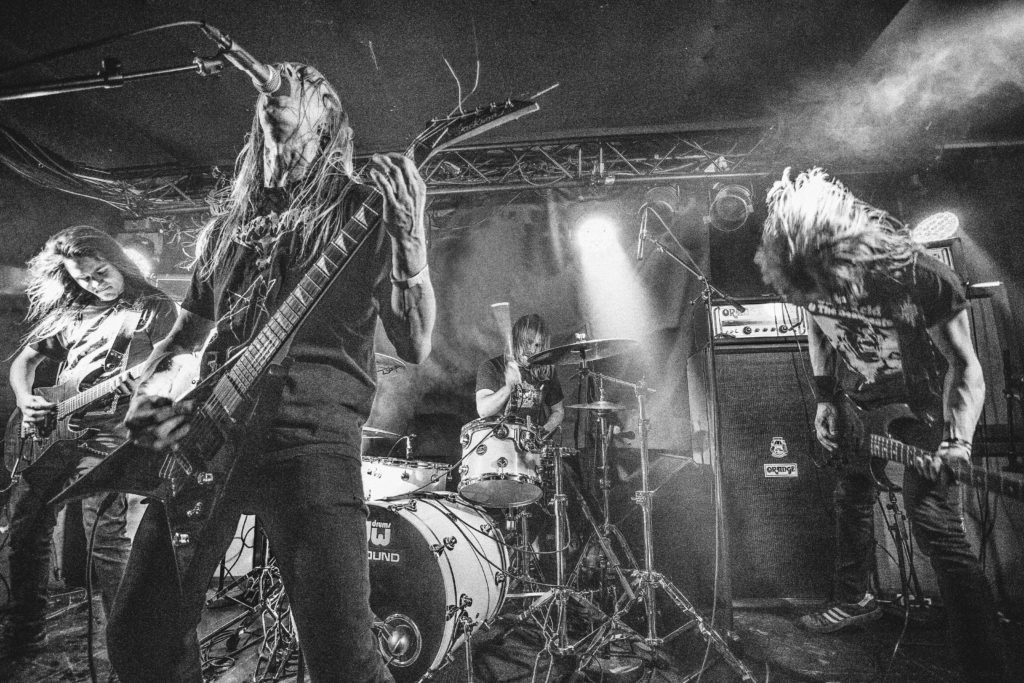 Debuten 'Solbrud' blev udgivet i 2012, i 2014 fulgte så 'Jærtegn' og 'Vemod' i 2017. Både udgivelser og kvartettens stemningsfulde, intense live-optrædener har konsolideret Solbrud som et band med en særegen kunstnerisk vision udfoldet i kompromisløs og grænsesøgende black metal.
Tilknytningen til naturen er som i lyrikken, også en udtalt kraft i Solbruds musik. Den er i lighed med naturen en mangefacetteret størrelse, derviser black metals brede udtryksmæssige potentiale ved både at være storslået, organisk, melodisk og dissonant, fantasifuldt fortællende og samtidig kontant og rå. Ligesom et egetræ tager sine hundrede år til at vokse ud, tager Solbrud sig sin tid til at udfolde sine fortællinger, og bandet formår undervejs at skabe en transcendental musikalsk tilstand, der kan opløse oplevelsen af nuet.
Som de få må vende ryggen til massekulturen for at kigge indad, må man som lytter forsage det overfladiske og åbenlyse og i stedet give sig hen til et nu, der kræver ens fulde tilstedeværelse. Belønningen kommer da også igen tifold. Landskaber åbner sig, horisonten strækkes, og sindet udvides, når man lader sig nedsænke i musikken og omslutte af erkendelsen, som man ellers i hast og hovedløs stræben glemmer, bortjager og forråder: En viden om snarlig destruktion og ligeledes en påmindelse om at leve i overensstemmelse med de evige kræfter, der hersker i og omkring os. Nu, mens vi stadig er her.
— ENGLISH —
Since the start of Solbrud 2009, the goal has been to create melodic and magnificent compositions in a raw and stormy expression; a sound that is achieved by combining merciless drumming with chord- and harmony-based on guitar riffs through a series of sound effects that together create an intense and atmospheric soundscape – or more recently: black metal.
The debut 'Solbrud' was released in 2012, followed in 2014 by 'Jærtegn' and 'Vemod' in 2017. Both releases and the quartet's evocative, intense live performances have consolidated Solbrud as a band with a peculiar artistic vision unfolded in uncompromising and boundless black metal.
The connection to nature is, as in the lyric, also a pronounced force in Solbrud's music. It is, like nature, a multifaceted size, showing the broad expressive potential of black metal by being magnificent, organic, melodic and dissonant, imaginatively narrative and at the same time cool and raw. Just as an oak tree takes hundred years to grow, Solbrud takes the time to unfold the tales, and the band, along the way, manages to create a transcendental musical state that can dissolve the experience of the present.
As the few must turn their backs on mass culture to look inward, as a listener one must abandon the superficial and obvious and instead give in to a now that demands one's full presence. The rewards then also come up tenfold. Landscapes open, the horizon stretches, and the mind expands as one immerses himself in music and envelops in the realization that one otherwise forgets, chases and betrays in haste and headless pursuit: a knowledge of imminent destruction and also a reminder to live in conformity to the eternal powers that prevail in and around us. Now, while we're still here.