Danish
Nu hvor vi endnu engang befinder os i en nedlukningsperiode i slutningen af januar, hvad kunne så passe bedre end at dykke ned i noget misantropisk musik? Fra de dybeste skove i Hviderusland fremkommer Raven Throne, et glubsk bæst, der sluger alt lyst og varmt, og efterlader sig evig vinter og mørke. Bandet havde danske koncerter planlagt i 2020 sammen med svenske Zornheym, der spillede en fantastisk koncert på Raise Your Horns, men desværre måtte Raven Thrones koncerter aflyses. Således er vi særdeles glade for at kunne præsentere bandet på dette års festival!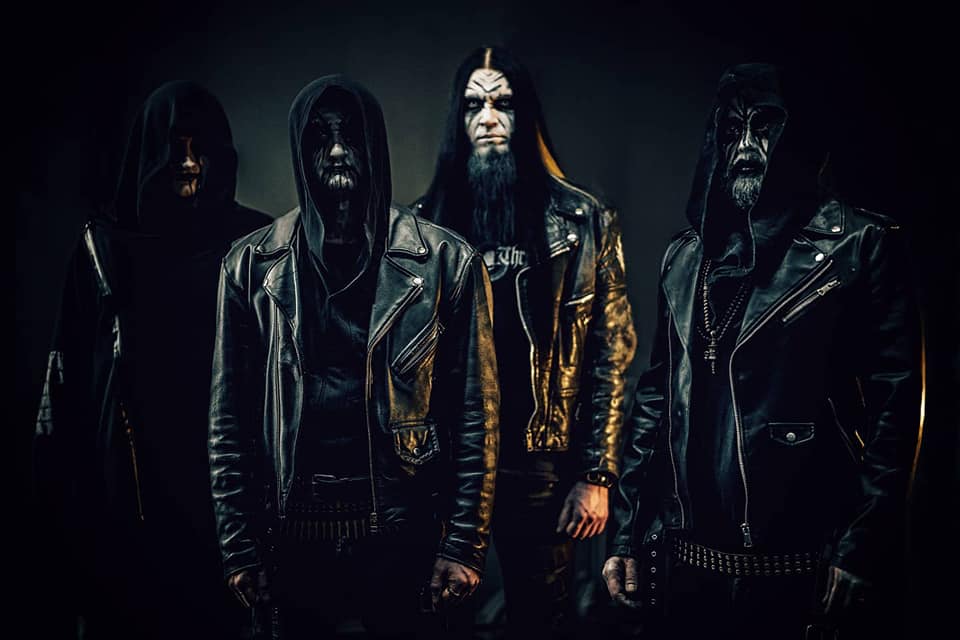 Raven Throne spiller black metal, der bringer tankerne tilbage til den norske scene i starten af 90erne, og ligesom med bands fra den tid præsenteres teksterne på medlemmernes modersmål. Selvom de er inspireret af black metal traditioner, er Raven Throne dog på ingen måde en kopi. Genrens klassiske blastbeats og skingre skrig blandes med sørgmodige akustiske guitarstykker, rockgrooves og elektroniske elementer. Bandet betegner passende sig selv som 'atmosfærisk black metal'.
Siden dannelsen i 2004 har Raven Throne udgivet syv LP'er og diverse EP'er og demoer med det seneste album 'Viartannie' i september 2020. Albummet indeholder syv numre, der inkluderer 'Uładar Ściužy (the Lord of the Forest)', 'Niabačnyja Nici Zimy (Winter Invisible Threads)', 'Miortvaja Spadčyna (the Dead Legacy)' og 'U dałoniach zimy (In the Palms of Winter)'. Titlerne indikerer, hvilket slags musikalsk bæst vi har med at gøre. Dette er bidende kold black metal perfekt til vinterårstiden, som helt sikkert vil komme tidligt, når Raven Throne indtager scenen til Raise Your Horns 2021.
English
As we once again find ourselves in lockdown at the end of January, what could be more fitting than delving into some misanthropic music? From the deepest forests of Belarus emerges then Raven Throne, a ferocious beast devouring all that is light and warm leaving eternal winter and darkness in its wake. The band had Danish tour dates planned in 2020 with Swedish band Zornheym who played an amazing show at Raise Your Horns, but unfortunately Raven Throne's shows were cancelled. Thus, we are so excited to present the band at this year's festival!
Raven Throne play black metal that harkens back to the Norwegian scene of the early 90s, and much like the bands of that era the lyrics are presented in the members' native tongue. Although inspired by black metal traditions, by no means is Raven Throne a carbon copy. The genre classic blast beats and high-pitched shrieks are mixed with sorrowful acoustic guitar sections, rock grooves and electronic elements. Fittingly the band labels itself as 'atmospheric black metal'.
Since forming in 2004, Raven Throne have put out 7 LPs and various EPs and demoes with their latest album 'Viartannie' released in September 2020. The album features seven tracks which include 'Uładar Ściužy (the Lord of the Forest)', 'Niabačnyja Nici Zimy (Winter Invisible Threads)', 'Miortvaja Spadčyna (the Dead Legacy)' and 'U dałoniach zimy (In the Palms of Winter)'. These titles indicate what kind of musical beast we are dealing with. This is blistering cold black metal perfect for the Winter season that is sure to come early once Raven Throne take the stage at Raise Your Horns 2021.