Danish
Den første annoncering til Raise Your Horns 2021 er det nyligt gendannede melodiske death metal band Withering Surface. Bandet blev startet i Næstved helt tilbage i 1993 og var aktive frem til 2005, hvor de spillede deres officielle afskedskoncert. Der skulle efterfølgende gå 14 år, før bandet lod røre på sig igen med en gendannelse i 2019 efterfulgt af en håndfuld koncerter og udgivelsen af albummet 'Meet Your Maker' i 2020, der er gruppens første album siden 'Force the Pace' fra 2004 og femte album i alt.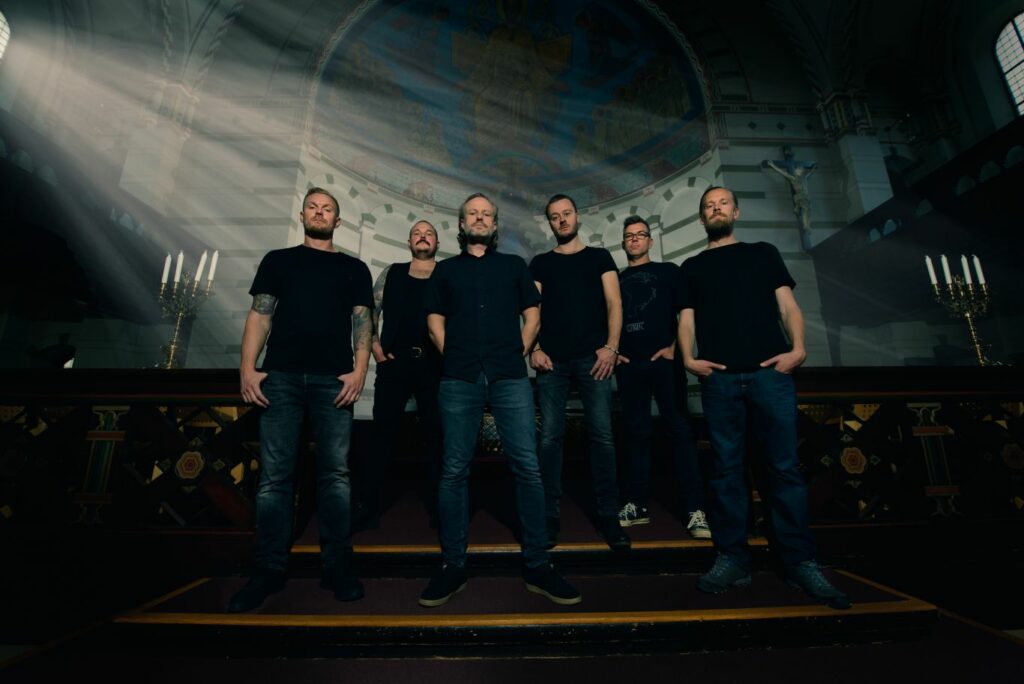 Withering Surface spiller nordisk melodisk death metal, som man kender den fra Göteborg-scenen med bands som In Flames, Dark Tranquility og At the Gates. Det nye album trækker tråde til bandets bagkatalog og lyder samtidig frisk og moderne. Den nuværende konstellation består af seks både originale og nye medlemmer, der alle er yderst erfarne herrer med baggrunde i bands som Thorium, Raunchy, Invocator og The Kandidate. Forsanger Michael H. Andersen er desuden medejer af pladeselskabet Mighty Music, som Withering Surface er signet til.
Bandet har over 100 koncerter bag sig fra turneer med bands som Dimmu Borgir, Arch Enemy og Opeth samt optrædener på Roskilde Festival og Wacken Open Air. Med udgivelsen af det nye, stærke album skulle deres planlagte turné i 2020 have inkluderet Copenhell, som bekendt desværre måtte aflyses. Vi er derfor begejstrede for at kunne præsentere dette revitaliserede band på Raise Your Horns 2021, hvor deres hårdtslående og melodiske metal helt sikkert vil blive godt modtaget af både gamle og nye fans.
English
First announcement for Raise Your Horns 2021 is newly reformed melodic death metal band Withering Surface. The band was started in Naestved all the way back in 1993 and was active until 2005 where they played their official farewell show. Fourteen years would pass before the band began moving again with a reunion in 2019 followed by a handful of shows and the release of the album 'Meet Your Maker' in 2020 which is the group's first album since 'Force the Pace' from 2004 and fifth album total.
Withering Surface play Nordic melodic death metal known from the Gothenburg scene with bands such as In Flames, Dark Tranquility and At the Gates. The new album draws from the band's catalogue while sounding fresh and modern. The present constellation consists of six original as well as new members who are all very accomplished gentlemen with backgrounds in bands such as Thorium, Raunchy, Invocator and The Kandidate. Lead singer Michael H. Andersen is also co-owner of record company Mighty Music which Withering Surface is signed to.
The band has more than 100 shows behind them from tours with such bands as Dimmu Borgir, Arch Enemy and Opeth as well as performances at Roskilde Festival and Wacken Open Air. Following the release of the new and powerful album, their scheduled tour of 2020 was supposed to include Copenhell which of course unfortunately had to be cancelled. Thus, we are thrilled to present this revitalized band at Raise Your Horns 2021 where their hard-hitting and melodic metal is sure to be well received by old and new fans alike.