Raise Your Horns er stolte af at kunne præsentere mægtige BAEST som hovednavn på årets festival. Bandet er et af de stærkeste danske metalnavne i dag, og vi er henrykte over at være en del af deres forestående turné. Med udgivelsen af albummet 'Necro Sapiens' 5. marts på Century Media, der er opfølger til 'Danse Macabre' fra 2018 og 'Venenum' fra 2019, står 2021 til at blive endnu et monumentalt år for den Aarhusbaserede death metal kvintet.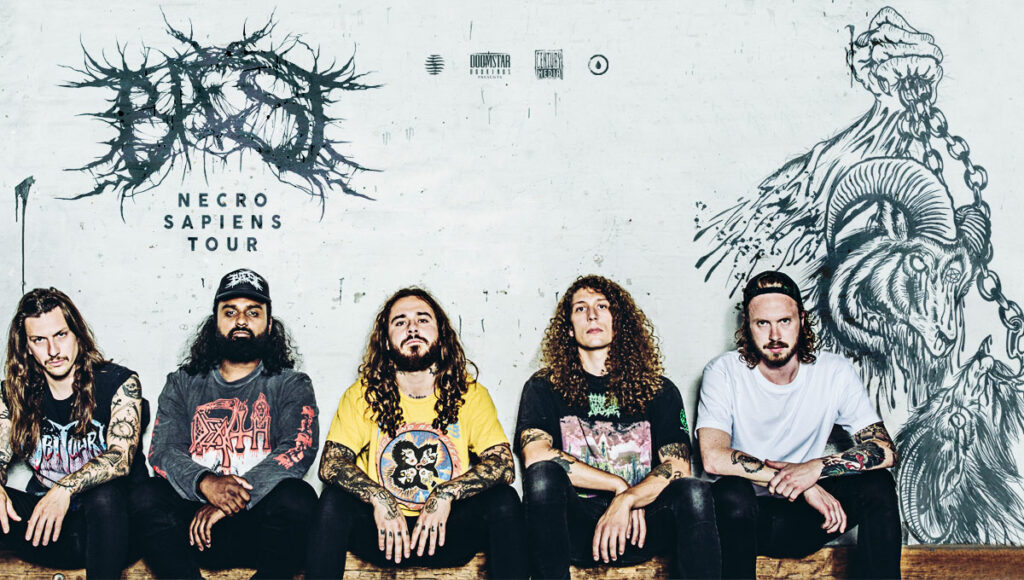 På blot det sjette år af sin eksistens har BAEST formået mere end, hvad de fleste bands ikke kunne på dobbelt så lang tid. Siden udgivelsen af EP'en 'Marie Magdalene' i 2016 er det gået slag i slag med succeserne: To anmelderroste album; tre Gaffapriser herunder for 'Årets nye danske navn'; arbejdslegater fra Statens Kunstfond; optrædener på festivaler som Copenhell, Roskilde Festival og Royal Metal Fest; Europaturneer med bands som Entombed A.D., Aborted og Decapitated.
BAEST spiller en moderne version af old-school death metal tydeligt inspireret af amerikanske og svenske bands fra slut 80'erne/start 90'erne. Således falder tankerne på klassiske navne som Morbid Angel, Malevolent Creation, Dismember og Immolation, når man lytter til bandets musik, der er brutal, energisk og fyldt med tunge grooves, som vil få selv den mest hårdnakkede skeptiker til at nikke med hovedet. Vi garanterer et brag af en koncert med det evigt fremadstormende dødsbæst!
English
Raise Your Horns are proud to present the mighty BAEST as headliner of this year's festival. The band is one of the strongest Danish metal acts of today and we are thrilled to be a part of their impending tour. With the release of the album 'Necro Sapiens' March 5th on Century Media, the follow-up to 2018's 'Danse Macabre' and 2019's 'Venenum', 2021 is about to become another monumental year for the Aarhus-based death metal quintet.
In just their sixth year of existence, BAEST have done more than what most bands could not in twice the time. Since the release of the EP 'Marie Magdalene' in 2016, the successes have kept on coming: Two highly reviewed albums; three Gaffa Awards including 'Best New Danish Act'; work grants from the Danish Arts Foundation; performances at festivals such as Copenhell, Roskilde Festival and Royal Metal Fest; Europe tours with bands such as Entombed A.D., Aborted and Decapitated.
BAEST play a modern version of old-school death metal clearly inspired by American and Swedish bands of the late 80s/early 90s. Thus, thoughts of classic acts such as Morbid Angel, Malevolent Creation, Dismember and Immolation enter the mind upon listening to the band's music which is brutal, energetic and loaded with heavy grooves that are sure to get even the most obstinate skeptic's head rocking. We guarantee a smashing show with the ever forward-striding death beast!